Christmas Entertainment Hire
Ho Ho Ho!!! And a whole lotta Christmas fun to you!! Here's our magical seasonal gallery of Father Christmas, Elves and more! What a wonderful time of the year. We're excited about Christmas events, where children's excitement soars and we help to maximize the joy, fun and laughter that this time of year brings. We have many Christmas entertainers providing deliciously winter wonderful fun!
Our Christmas entertainment assortment can include but is not limited to walk-about mascot characters, jugglers, stilt walkers, circus performers, acrobats, Father Christmas, Elves, face painters, balloon modellers aka balloon twisters, magicians, roller blading characters, and so much more.
Kane Curran, Chelsea Football Club says…
"Your service for both our match day entertainment and Bridge Kids Xmas party was fantastically received by all Chelsea fans and certainly made every child feel very special. I felt you planned and executed perfectly everything that was required and you and your performers ably handled the impromptu situations that arose above and beyond what I expected. You and your team made it a great day for everyone and I would have no hesitation in recommending you and certainly will be top of the list for any future requirements. Thank you for your help with both events and I will be in touch as we do very impromptu things throughout the year. Thank you!"
… and Sybil Pithie, Human Resources Coordinator, The Savoy says…
"Recently organised a children's Christmas party for over 80 children and it was a great success! A primary reason for this was the amazing entertainers. Prior to the event they called to discuss the event and from the minute the doors opened to the minute they closed they had the children engaged in fun and silly games, balloons and so much more! I couldn't praise them more and would like to say a huge thank you! I will definitely be in touch again next year."
Christmas Entertainment Options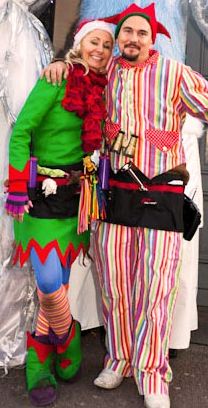 Entertaining Elf
Centre-stage and ready to get the crowds going in group games, fun and laughter, Entertaining Elves specialize in bringing Christmas cheer and orchestrating the entire event. The Entertaining Elf plays a variety of interactive games with the children (calling various participants up to play guessing games, whistling with cracker games, name that tune, wrapping contestants as presents, and dancing games, etc.)
"She was very professional, great with the kids and kept all ages (from toddlers to teens) entertained the whole time."Caroline, London.
"All our parents commented on how good it was."Alison Taylor, Deputy Nursery Manager, Nuffield Health Day Nursery, London.
"Thank you very much for making our Xmas party so amazing."Rahala, London.
Father Christmas
What Christmas event would be without Father Christmas? Our jolly Saint Nicholas brings a hearty "Ho Ho Ho" to your celebration, greeting the children and listening to their dreams and wishes for Christmas!
Visit our Father Christmas Hire webpage
"Our Santa yesterday was wonderful. Thank you very much, Merry Christmas."Amy Shaw, PA to Andrew McGuinness & David Bain, Beattie McGuinness Bungay LLP, London.
"I've heard he's the real deal!"Ceren, London.
Assistant Elf
Assisting the main Entertaining Elf and Father Christmas to greet the children, offering Candy Canes and joy!
Assistant Elves help the main entertainers and are perfect for events with more than 20-25 children where another entertainer is required.
Balloon Modellers
Dressed as elves, these fabulous balloon artistes will entertain the children with their colourful, wonderfully crafted balloon sculptures.
Kids are delighted by the balloon models, see our photo gallery of balloons and happy children on our Balloon Modellers page (Page opens in new window).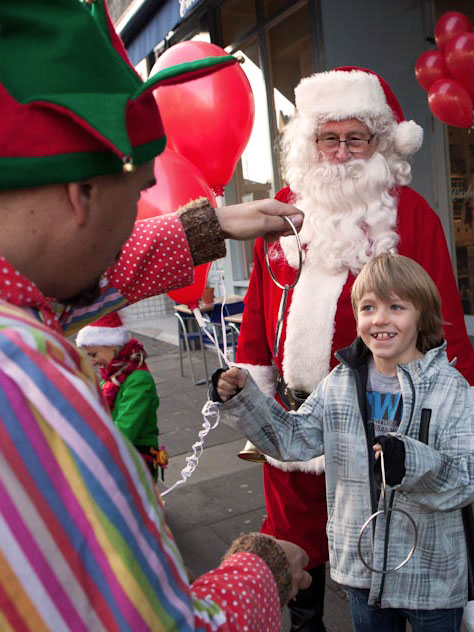 Christmas Magician
Top notch magical entertainment to enthral your party guests.
Our pro magicians offer a staged magical performance during the Christmas entertainment and/or walk about magic.
Professional Face Painter
Kids love Face Painting. Their faces positively beam when they see their face painted in the mirror. All our Face Painters can provide a variety of stunning designs allowing kids imaginations to run free!
See our Funtabulous Face Painting gallery (Page opens in new window).
"A great hit with the children at the BlueBay Christmas party."Connie, BlueBay Asset Management LLP, London.
Christmas Puppet Show
In the "Fairies Christmas Ball", Santa Claus, an Elf, a Snowman, Rudolph, a Robin and more puppet characters all join in for the Christmas fusion. Rudolph gets kidnapped by a naughty witch while out delivering Santa's Christmas presents – will he be rescued in time for Christmas?
Father Christmas Grotto
With Father's Christmas's grotto at your event, you can really set the Christmas scene and create the magical festive atmosphere that kids love.
Why not book with our Father Christmas entertainer?
Christmas DJ
Offering great music including plenty of good vibes to bring out the Christmas boogie woogie in all.
For a super Christmas party package, invite the Christmas DJ to work alongside the Entertaining Elves bringing festive tunes to the event.
Christmas Balloon Decorations
Arches, clusters, clouds, bouquets of balloons to dress the venue in Christmas colours of your choice.
See our gallery of Balloon Decorations on Pinterest for more photos. (Page opens in new window).
Winter Stilt Walkers
Our stilt walkers come in a variety of costumes and engage your guests in a variety of larger than life entertainment.
Many offer balloon modelling with this glamorous Christmas expression.
Snow Fairies
Snow fairies can bring a variety of entertainment to your event including magic, balloons, story-telling, and a whole lotta Christmas jangle.
Christmas Party Bags
Stunning, quality party gift bags. Kids will be delighted by these items, hand-selected to create the perfect gift.
Each party bag is made especially for the gender and age of the children.
Are you read to book Christmas entertainment for your children's party? Check availability, book online, enquire by phone 07743 196691 or email jojo@jojofun.co.uk
See pricing for Christmas Entertainment here
[xyz-ihs snippet="Themes-list-and-More-Information-links-in-text"]